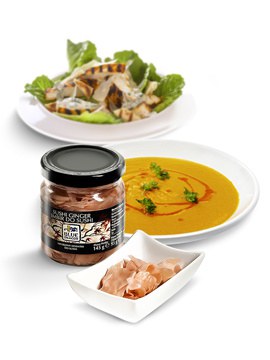 GINGER

If you run out of fresh ginger, you can successfully use marinated ginger. You can fry it or add to a sauce or a marinade.

Your dish will have more aroma if you add marinated ginger instead of powdered ginger. You will not only enrich the flavour of the dish, but also add an interesting ingredient.

You can use ginger as an addition to salads. It is a great substitute for garlic and will make your salad light and refreshing.

Chopped marinated ginger with rice vinegar, sesame oil and honey will make a perfect dressing for an oriental salad.

Ginger can also be an original ingredient of desserts and preserves. Try orange preserve with ginger and cinnamon. That will warm you up!

Ginger greatly enhances the flavour of soups, stews and sauces. It goes perfectly with tomato soup. Just add of a bit of it while cooking and garnish when the dish is ready. This small modification will add oriental magic to ordinary dishes.