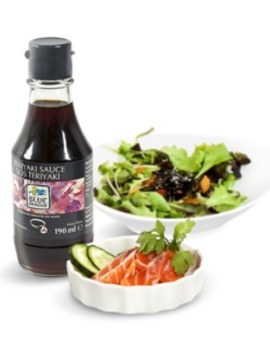 TERIYAKI SAUCE

Blue Dragon teriyaki sauce is a great addition to meats and fish as a marinade. You can add it directly to salmon and marinade for 30 minutes. It is enough to add the unusual flavour and aroma to your dish.

Add some teriyaki sauce to chicken or duck. The crust will be crispier and the colour deliciously gold.

teriyaki sauce can be also used as an addition to fried vegetables, stir fries, fried rice or pasta. Add it at the end of frying, so that its aroma doesn't disappear and the sauce doesn't burn.

Teriyaki sauce can also be used as dip for chips or other snacks. It goes perfectly with vegetables and salads and can be an alternative for ketchup or mayonnaise.

Teriyaki sauce can also serve as a seasoning for soups. It will greatly compose with broth or fish soup. Its sweetness combined with a nutty aroma will add a new, original dimension of flavour.