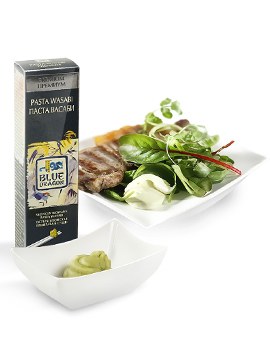 WASABI

Blue Dragon wasabi paste is a great alternative to common horseradish. Thanks to this original ingredient our dish will grain a new, original form.

If you don't have time to prepare fancy sauces for the snacks, just add some wasabi to the mayonnaise. It will make a great addition to chips, vegetables, traditional hard-boiled eggs or potato salad.

Wasabi paste is great as a seasoning. You can add it to a marinade for meat or seafood or instead of chili, as a flavour enhancing ingredient.

Wasabi blended with soy sauce is a simple and tasty dip for chicken or other meats or fish and seafood.

Tip for those of you who want to change the daily routine: when you make a sandwich, add some wasabi paste instead of butter and then add your favourite ingredients.