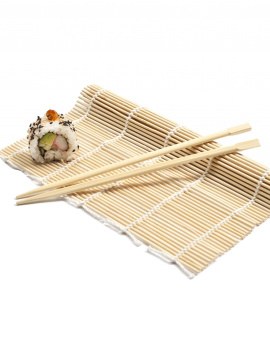 HOW TO EAT SUSHI
In a good sushi restaurant each customer receives a small, hot towel. It is used to wipe hands and should be used only once.
Some types of Japanese dishes should only be eaten with your fingers (such as sushi nigiri), others should be eaten with chopsticks (sashimi) and some with both fingers and chopsticks (maki). Not eating nigiri with your fingers is not considered rude, but will show your unfamiliarity with the proper etiquette.
Before eating nigiri turn it to the side and dip in soy sauce to moisten it from the side where the fish is. Rice will not absorb too much sauce and so that will not fall apart. Eat whole pieces and put in your mouth from the same side.
If you want to add some wasabi, while you eat maki, add it directly to sushi right before you dip it softly in the soy sauce. "Drowning" sushi in sauce is considered rude and unreasonable, because it kills the delicate flavour of rice, nori and filling.
Don't add wasabi to soy sauce, because you won't get rid of it! It's easier and better to put a small amount of wasabi on sushi before dipping it sauce.
It is accepted that you start eating sushi from the most delicate flavours to move to those clearer ones. So start with sashimi (raw fish), then eat maki and finally nigiri. This way, your taste buds won't be "flooded" with strong flavours and you will enjoy every bite.
Sushi ginger is eaten between different types of sushi. This is to purify the taste buds and prepare them for another flavour. Don't put in on nigiri, because it will disturb the flavour of fish and rice.
Sushi goes well with a variety of beverages: cold lager beers, gewürztraminer white wines, Riesling white wines and dry champagnes. Dry drinks cleanse the taste buds well before another types of sushi and don't interfere with the acidity of rice. Beer and champagne bubbles "elevate" the dish and cleanse the taste buds.
Sake is a Japanese rice wine. It is traditionally drunk before or after eating sushi – never during eating it. It is made from fermented rice, the flavour of which interferes with the flavour of sushi. Sake can be served at any temperature (warm in winter, cold in summer), but it's best served when chilled as good red or white wine – it enhances its subtle flavour.